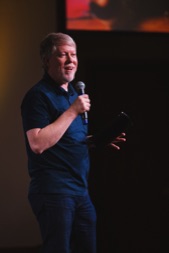 Sharing the power of story... Embracing imagination... Unleasing the creative potential in people. Jim Ed's ability to connect with listeners is driven by these passions for encouraging others in their journey with God.
Jim Ed is fueled by more than 30 years of ministry experience to both students and adults, speaking to groups of all sizes, here and across the ocean to countries like Thailand and Uganda. He shares from personal experiences that are relevant and relatable, using compelling illustrations and engaging visuals.
In this media-centric society, any voice without passion is quickly muffled. Jim Ed is a strong communicator whose voice is clearly heard above the fray. He causes readers and listeners to confront truth through compelling language, illustrations, and humor.
Jim Ed challenges me to learn more and be more; he inspires me to expand my personal life goals.
—D'Arcy Maher, M.Ed. | Head of IPEKA English Program | Jakarta, Indonesia
Jim Ed was phenomenal! Engaging and comical coupled with the seriousness needed to
deliver God's Word effectively. Both students and adults laughed, cried, and were moved to
action through his story and delivery. ...Because of his ability on stage and even more for his
character, integrity, and genuine spirit. I highly recommend him for your next event or pulpit
absence.
—Danny Watterson | Lead Pastor | The Woodlands, TX
Jim Ed is a great storyteller and heartfelt speaker. He writes and speaks with humor, heart,
passion, and truth. Our church loved him and responded positively to the challenge that he
brought to our people. I count it a pleasure and privilege to call Jim Ed a friend and a co-
laborer in the gospel of Jesus. We look forward to having him back.
—Ted Blair | Senior Pastor | Garland, TX
Jim Ed has a great eye for relevant creativity, combining his artistic excellence with a zeal
for reaching kids in the heart of their culture. With a broad spectrum of talent including:
music, graphical artistry, and passionate preaching and teaching based in true biblical
character, I whole-heartedly recommend him as an ideal asset to anyone trying to reach this
or any generation.
—Joey Bock | Associate Pastor | Reno, NV
Jim Ed is an artistic innovator at heart. His eye for creativity and instinctive relevance make him an imaginative genius! When given the platform, his use of first-rate, original media along with his dynamic enthusiasm will lead you on a life-changing journey towards growth and ambition.
—Bobby Williams | Pastor | Bay City, TX
Jim Ed is awesome! As a Youth Pastor I could definitely tell that he loves students and that he put heart into creating a series that connected with our youth. He oozes love for God and it got all over our students. He seamlessly weaved together humor, personal stories and the Truth into a simple yet relevant message to point our kids towards a deeper relationship with Jesus. It's clear that God has gifted him to communicate the hope and the power of the Gospel to young people.
—Kevin Olivarez | Associate Pastor | Blackfoot, ID
Jim Ed has been a blessing to me, my family and my church family. He has the uncanny
ability to deliver an energetic, passionate sermon filled with humor—a true friend with a
genuine anointing and sincere heart for this generation.
—Jonathan Salas | Worship Leader | Markham, TX
Being in a band and traveling around the country we are able to meet and hear a lot of
talented speakers, but none quite compare to Jim Ed. He definitely has a unique ability to
connect with an audience and is very comfortable in front of people. We've worked with a lot
of speakers that were not flexible and drove us crazy. Jim Ed is the opposite. It was a great
pleasure to share a week of ministry with him and we would definitely jump at the chance to
do it again.
—Daniel and Georgiana Eakins | The Ineloquent band | Brasov, Romania
My 7th grade daughter came home from camp and absolutely loved all of Jim Ed's talks! As a dad, I could not be more thrilled with the way his messages touched my daughter's heart. My daughter's perspective on the world has broadened and I can see a change in her that she wants to share the love of Jesus more with others.
—Mike Hinckfoot | Executive Director of Ministries at St. Peters Columbus - LCMS | Columbus, IN